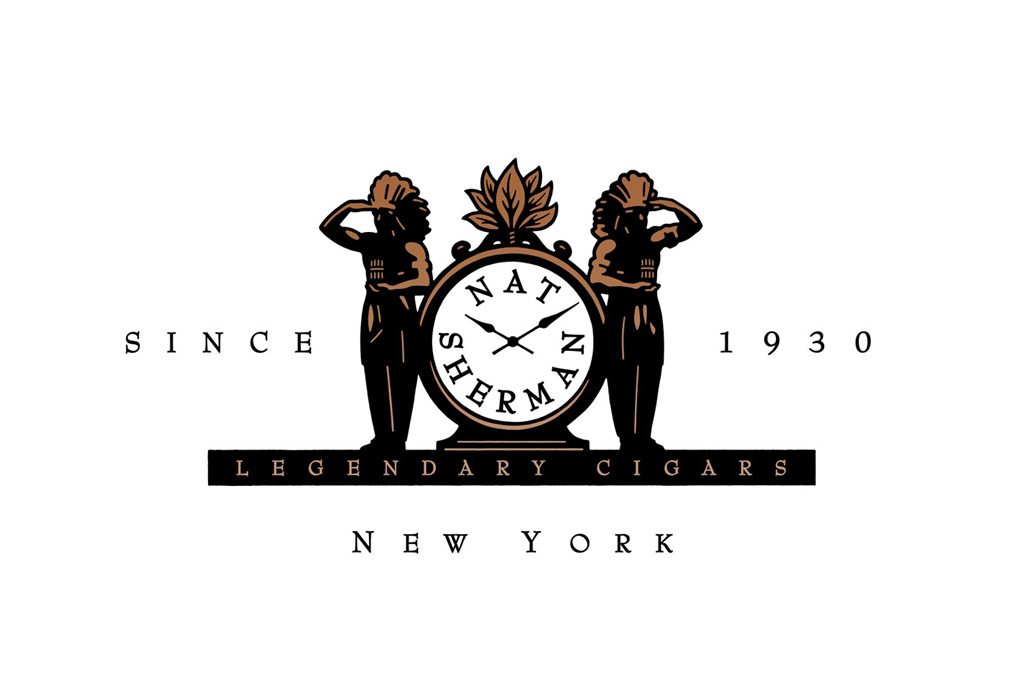 Nat Sherman, a Hungarian emigrant, entered into the tobacco industry somewhat by chance, taking on partial ownership of Traub Brothers and Bear as payment for a gambling debt in 1929. The company produced a line of cigars known as Epoca, a "clear Havana" cigar that was rolled from Cuban tobaccos in Tampa, Florida. Sherman bought out the remaining partners and founded the Nat Sherman company in 1930.
When a real estate developer, Abe Gubertz, was in need of financial assistance, Nat Sherman loaned him the money to complete construction of a 38-story building in Manhattan. Upon completion, Gubertz offered Nat the building's lobby shop, which Nat was quick to convert into an upscale tobacconist outlet. In addition to Nat Sherman's premium cigars and cigarettes, the shop was also the exclusive distributor of the Cuban-made Bolivar brand in the U.S.
In the 1990s, after the death of Nat Sherman in 1990, Joel Sherman (Nat's son) oversaw the transition of the store to its modern-day home at 12 East 42nd Street—a 7,000-square-foot premiere tobacconist affectionately known as "The Townhouse." While the company is often best known for its retail location (among the world's most famous), Nat Sherman is also renowned for its cigar brand of the same name. In 2011, the company hired Michael Herklots to oversee the brand development of Nat Sherman's cigars. Working with the Quesada family in the Dominican Republic and the Plasencia family in Nicaragua, Michael was quick to reinvigorate the Nat Sherman brand with cigar enthusiasts. Michael developed new cigars under the NS name such as the Timeless in 2011; this was a popular brand with modern-day smokers, later followed by similarly contemporary brands like Sterling, 1930, Panamericana, and the resurrection of Epoca.
Nat Sherman was acquired by tobacco giant Altria Group, Inc. in 2017, later restructuring the brand with a streamlined portfolio of only three brands—Metropolitan, Timeless and Epoca. Under the new ownership, Michael Herklots remains the company's vice president, with Joel Sherman acting as CEO and his children (Larry, Bill, and Michelle) taking on other executive roles within the company.
Founded by Nat Sherman in 1930
First cigar was Epoca, a "clear Havana" blend made from Cuban tobaccos in Tampa, Florida
Nat Sherman tobacconist originally located at 1400 Broadway in Manhattan
Nat Sherman tobacconist was the exclusive distributor of the Cuban-made Bolivar brand in the U.S.
Nat Sherman tobacconist was a frequent destination for organized crime families, known as a "neutral ground" throughout the 1950s
Nat Sherman introduced plastic-tip heads to the cigar industry with the Sherman's #25
Opened a new retail location at 711 Fifth Avenue in 1976
Joel Sherman, son of Nat Sherman, took control of the company (president and CEO) in 1990 upon the death of his father
Nat Sherman moved to 42nd Street in early '90s, later migrating across the street in 2008 to its current location of 12 East 42nd Street (occupying 5,700 square feet on three floors)
Hired Michael Herklots to oversee brand development in 2011
Acquired by tobacco giant Altria Group, Inc. in 2017
Modern lineup was streamlined to only three core brands in 2018: Metropolitan, Timeless and Epoca (including 10 cigars throughout the three lines)
top ranked cigars
associated factories